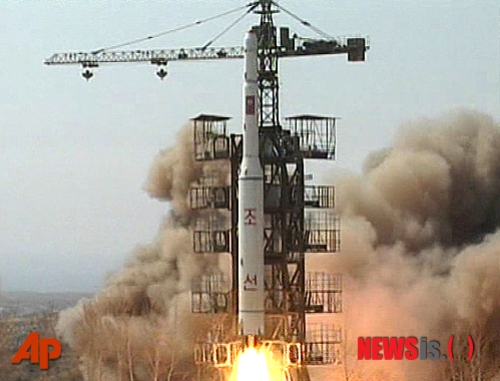 Long-range missile threat aimed at gaining leverage in talks with United States
Pyongyang's announcement of a "satellite" launch on Friday was likely aimed at bolstering its bargaining position in future talks with Washington.

On Friday, Pyongyang's Korean Committee for Space Technology announced that a Unha-3 rocket carrying the Kwangmyongsong-3 satellite will blast off from the launching station in North Pyongan Province between April 12 and 16.

According to Pyongyang, the launch is scheduled to mark the centennial of its founder Kim Il-sung, who is referred to as "Kwangmyongsong" meaning "bright star." The deceased founder of North Korea is said to have been born on April 15, which is celebrated as one of the most important holidays in North Korea.

The announcement comes only two weeks after Pyongyang agreed to a moratorium on missile and nuclear tests and freeze uranium enrichment in exchange for 240,000 tons of food aid from the U.S.

As such, observers here say that Pyongyang may be following a long-established pattern of engaging in dialogue then following with a provocation.

On June 15, 1999, the navies of the two Koreas engaged in the first fire fight since the end of the Korean War in 1953. The incident occurred a week before vice ministerial-level talks between the two Koreas.

Three years later on June 29, 2002, the two navies once again clashed in the West Sea. As with the 1999 incident, the skirmish took place while Pyongyang was engaged in diplomatic talks. On April 30, Pyongyang had agreed with Washington to hold bilateral talks. Earlier the same month, its late leader Kim Jong-il had met with South Korea's former Unification Minister Lim Dong-won and agreed to reestablish relations with Seoul.

In 2009, when North Korea launched the Kwangmyongsong-2 satellite, Pyongyang and Seoul were negotiating matters regarding the Gaeseong Industrial Park. Seoul and Washington had rejected the claims that the launch was part of a peaceful space program, and concluded that Pyongyang was testing ballistic missile technologies.

According to Dongguk University assistant professor of North Korean Studies Kim Yong-hyun, the pattern is part of Pyongyang's attempts to strengthen its negotiating power.

He said that the planned launch may be another example of Pyongyang's "brinkmanship," a ploy Pyongyang has employed in the past to gain the upper hand in negotiations.

In addition to strengthening its hand in diplomatic talks, the launch may also be an attempt to influence the upcoming general elections in South Korea.

In recent years, North Korean provocations have sometimes resulted in the public voting for progressive parties that take a softer approach to North Korea, as seen in the 2010 local elections when the opposition parties emphasized the need for peace after the sinking of the South Korean warship Cheonan in March of that year.

According to reports, Pyong­yang's new leader Kim Jong-un is said in January to have ordered pro-North Korean elements in the South to "give the traitors (conservatives) a decisive defeat in this year's general and presidential elections."

While the international community has condemned the plans, Pyongyang claims that the rocket launch will be for "peaceful purposes," and that it will be an important step "in the building of a thriving nation and will offer an important occasion of putting the country's technology of space use for peaceful purposes on a higher stage."

However, the location of and the equipment installed at the facility Pyongyang is likely to launch the rocket from are fueling doubts about such claims.

The facility from which the rocket will be launched in April is considered likely to be the facility in Dongchang-ri in North Pyongan Province on the western side of North Korea. Previously North Korea had launched rockets from the Musudan-ri facility on the eastern side of the peninsula.

The Dongchang-ri facility has a larger launch tower than the facility in Musudan-ri, allowing larger rockets including intercontinental ballistic missiles to be fired.

In addition, Dongchang-ri's proximity to the Yongbyon nuclear complex is also raising concerns that the new facility allows nuclear materials to be transported more easily should Pyongyang succeed in developing a nuclear warhead.

The Dongchang-ri facility is located 70 kilometers away from the Yongbyon complex, while the Musudan-ri facility is about 300 kilometers away from the nuclear complex.

http://www.koreaherald.com/national/Detail.jsp?newsMLId=20120318000276
North Korea has announced that what they try to launch is a satellite. But there is few people to believe it. (Maybe the few people would be North Koreans) They had launched a lot of fake satellites and those were turned to be missiles toward South or America.
North Korea has repeated an outdated diplomatic strategy that could be summarized as "Take the Food and Launch the Missile" They won't give up their missile and nuclear to beg food now and for ever.
When they receive food aid, they just pretend to give up all of aggressive weapons they have and they swear not to do anything provocative (for a while). Kim jong un is almost same with his father Kim jong il and he doesn't take the new ways and means to change North Korea at all. I seriously wonder how long this North Korean style diplomacy could last.